We are excited to announce that not only is influence group celebrating our fifth anniversary, but we're also launching our eighth event--WorkSpaces, a three-day retreat for corporate real estate and workplace innovators.
Over the past five years, our growth has been on a steady and upward trend--we launched with three intimate forums in 2013 and we're now producing industry-leading events and original content in eight markets with: RetailSpaces, HotelSpaces, RestaurantSpaces, HealthSpaces, The Senior Living Innovation Forum, The Higher Ed Facilities Forum, The K12 Facilities Forum, and WorkSpaces, which will be held October 27-29, 2019 at the Omni Rancho Las Palmas Resort in Palm Springs, CA.
Though our growth has been substantial, influence group remains committed to taking a selective approach, carefully researching and vetting each new market we enter.
Since our inception, we've become much more than an events company, we have become a trusted voice and community for the industries we serve.
Connecting people is at the core of what we do and while our live events are the primary focus of our company, we have extended our reach through our blogs, newsletters and video content featuring insights from industry leaders and e-books and reports on topics relevant to our audience.
Doing B2B Better
After working together for a number of years, Michael McCarthy and I founded influence group in 2013. Our business plan was based on a belief that we could take our shared foundation of conference production knowledge and use it to create a platform that reinvented the B2B event format through intimate, experiential gatherings centered around building meaningful relationships.

Michael and I knew that the traditional trade show model was wearing thin and sponsors were growing weary of their investments in most shows.

What was missing was connection. Aimlessly wandering a convention center and getting lost in a sea of faces isn't just unproductive, it's impersonal and tiring.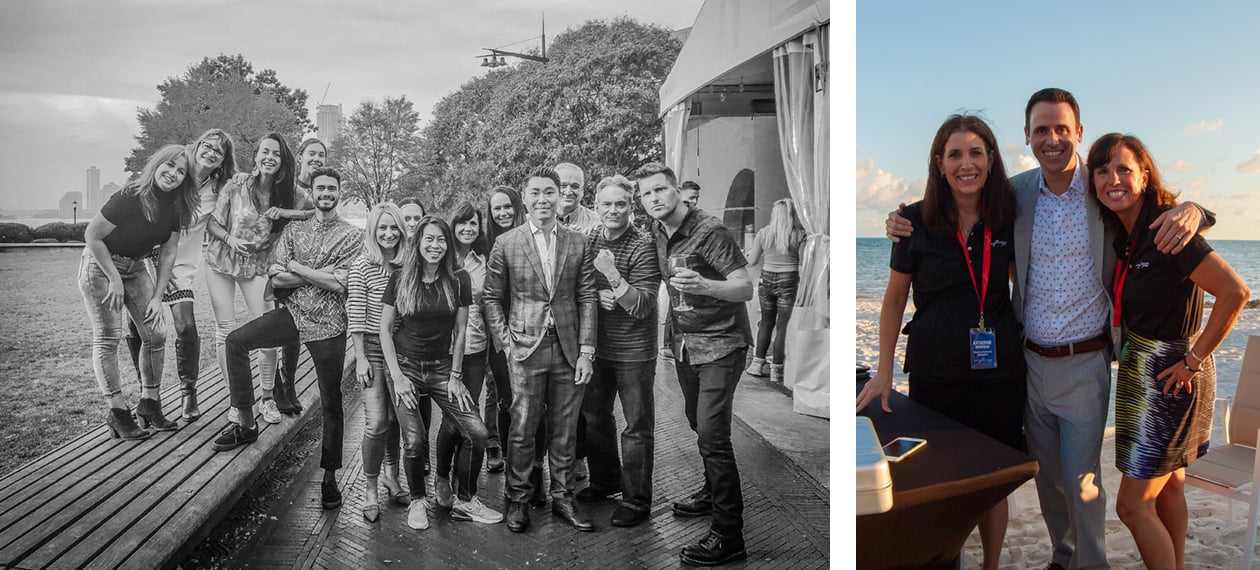 So we set out to create events that business leaders and sponsors would actually look forward to attending. We wanted to craft environments that foster true collaboration, where the sharing of great ideas can thrive.

Starting with just the two of us working out of my brother's restaurant in midtown NYC, we have grown to over fifteen full-time employees as well as a team of consultants and creators who make a valuable contribution to our events, blogs and the content that goes into our platforms.

I know it's cliche to say we owe it all to this team, but it's true. We have been very fortunate to align with some of the brightest people in the business who are passionate about our mission of creating top-notch experiences.
It's All About the Experience
Like most of the industries we serve are realizing (retail, senior housing, healthcare, hospitality) in this day and age, you have to deliver more than a product or service. You have to give people something to remember. We want our attendees to remember influence group retreats long after they've come to a close.

This is why, in addition to cutting-edge content and strategic sourcing opportunities, attendees can always look forward to unique excursions, destinations, and entertainment.
Just this past year we partied with senior living leaders in a medieval castle in Napa, toured Key West on Jet skis with hotel execs and had Bret Michaels put on a rockin' show at our annual RetailSpaces retreat where we took over the iconic Hotel Valley Ho for three days.

2019 will be even more memorable. Here's a tease...Hot Air Balloons, Golf Cart Polo, Surfing, Iron Maiden, Run-DMC and so much more in the works!
What's Ahead?
We've found that the influence group approach works for leaders and innovators in most industries because, in this age of information overload and isolation by devices, people crave intimacy, curated content and unique experiences.

While we'll never take a factory approach, we are planning to enter additional new markets over the next few years and develop more of an international presence.
Thanks to all of our clients who have supported us along the way. Especially the ones who "believed in us" back when influence group was just an idea.
Onward!
- michael owens
-------------------------------------------------
If you're interested in retail, hospitality, healthcare, senior care, food service, education, and the other industries influence group serves, take a few minutes to explore our Events page which links to all of our blogs, each of which offers unique content and videos featuring some of the most provocative voices in their industries.